Demons by Fyodor Mikhailovich Dostoevsky
The Brothers Karamazov by Fyodor Mikhailovich Dostoevsky  
In this book, published in 1879, Dostoevsky portrays the social corruption within the Russian family structure. Freud often praised Dostoevsky as more than the author, a guy diving into the depth of human beings. The social contradiction of that time underpins the mainline of the book.
The murder of an alcoholic, immoral father by one of his sons forms the story. Nevertheless, this is only one of the grounds that paves the way for justice, injustice, and other social issues to be discussed.
"Let me tell you a story Alyosha, a young brother and pure believer of God, Parents of a 5-year-old-girl, kicked her, flogged her, for no reason that they themselves knew of. The child's whole body was covered in bruises. Eventually, they devised a new refinement. The child dirtied her bed, and the parents forced her to eat excrement, smearing it all over her face. And it was the mother that did it! And that woman would lock her daughter up in the outhouse until morning, and she did so even on the coldest nights when it was freezing. Just imagine the woman being able to sleep with the child's cries coming from that outhouse! Imagine that little creature, unable even to understand what is happening to her, beating her sore little chest with her tiny fist, weeping hot, unresentful, meek tears, and begging 'gentle Jesus' to help her…"
''Is there justice, Alyosha? Why does this fair God not see the girl tortured and covered with shit mud? Why does your kind God do not protect the desperate girl?''
(Brat'ya Karamazovy, book V/Ch. IV)
Ivan Pyryev, a soviet film director, adapted some Russian Literature works into the Soviet cinema. Brat'ya Karamozvy was shot between 1966-69. It can be watched with subtitles through the link below.
What is to be done? by Nikolay Gavrilovich Chernyshevsky
A Russian author named Nikolai Chernyshevsky, whose novel published in 1863, though critically mocked, became an inspiration for one generation in the 1900s. Chernyshevsky's novel would become a guidebook for emerging revolutionaries. Chernyshevsky was a follower of Karl Marx, August Comte and Charles Fourier, who inspired him with various forms of socialist ideas. However, Chernyshevsky's understanding of the future's society was precisely different from his contemporaries.
The new people of Nikolai's idealized commune-based society are about to emerge to the world's surface after living, suffering under the ruthless serfdom system in Russia. The novel's main characters are Rakhmetov, representing a dedicated life, Vera, spurning an old traditional lifestyle based on economic dependence on the nuclear family. Despite lacking money, Vera managed to escape from her family. Getting know a successful intellectual man, she gained self-confidence. The man acquainted her with new rules of free life.
The story turns mainly around Vera to be regarded as the novel's main subject. Although her oppressive mother intends to marry her off to a debauched army officer, Lopukhov, a man with revolutionary intentions, appears to free Vera from the chains of male-dominant society. Hereupon, the two decided to move into their apartment. Having moved to the new flat, they set up house rules based on freedom and equality. To be financially independent, she and a few of her friends start running a tailoring workshop. Producing and sharing their profit collectively are the essential ideas of upcoming revolutionary movements, especially Narodna Volya, the most massive and effective underground organization, whose one of the central committee members was Nikolai for a while.
Even in today's modern world, while encountering a matter of social gender inequality, the book is ahead of that time on this matter, according to many literature authorities despite being written almost two centuries ago.
Oblomov by Ivan Alexandrovich Goncharov
The anatomy of laziness, idleness, one could say after reading. Goncharov did not write as many books as his contemporaries. However, with this book, he succeeded in gaining many reputations. The book was published in 1857 after one of the parts of the book being published in a literature magazine in 1849. Not only did it make a significant impact in Russia, but also worldwide, creating a tragicomic character whose name has been used for centuries for describing certain sort of people. 'Oblomovism' is used to describe idle characters. At the time, it was also used to describe hesitant, faltering elements of the political movements in Russia, which were talking big, but doing nothing.
Goncharov is critical of the eastern stereotype of people in the book. Oblomov, the main protagonist, represents the stereotype of idle, lazy, unwilling easterners. His views result from his own contradictions and in the country he lives. In the 19th century, after centuries of stagnation period, Russia began to shift. Russia could not do it by itself. The shift occurred owing to the rising western powers. Obmolov realizes that he must change as his country changes; he moves to another city, settling in there. He takes up new hobbies, engaging in art. However, he realizes that he cannot achieve the changes he strives for because of his idleness.
Stolz, the other protagonist, was born and raised in Russia. He is the only child of a German family and was brought into German traditions. He has always been encouraged to take responsibility. He is a man of well-education with many pursuits. He can adapt to the constantly changing world, working tirelessly. In his life, things are in order and practiced accordingly. On the contrary, Oblomov cannot even get up and starts doing his daily tasks.
Zahar, Oblomov's servant, his hand and foot, deserves to be specifically mentioned. Goncharov portrays this character in such a way that your mental faculties start imagining this clumsy, miserable, and fun guy. Zahar always wishes his master would die. However. He is dependent on his master and cannot do anything by himself. He constantly curses his master behind but never says in the face. There are many similarities between these two. They both want to change but do not practice the change. As Obmolov becomes much lazier, Zahar follows his master's path.
And Quiet Flows the Don by Mikhail Aleksandrovich Sholokhov
And Quiet flows the Don is the epic story of the Don region. The book talks about the local people's life and the reflection of the war, revolution, and conflicts. The region houses Cossack tribes. In the first volume, the author heavily dwells on the living conditions, traditions, customs of the Don Cossacks in the Russian Empire.
There are so many parts that describe the moods of the river don, how it flows, and which shapes it takes on. In the second volume, the First World War and the turbulent period of 1917. Kerensky Government, White Army, Bolsheviks' seizure of power and Great October Revolution. In the third and fourth volumes, the uprisings of the Don Cossacks', newly emerging independent republics take place.
Mikhail Sholokhov depicts lively pictures of daily life and its heroes thrown into this turmoil. Endless steppes, vivid flowers, challenging natural conditions, singing birds; the book has a powerful narration of surroundings. All of these make the book one of the most influential novels.
Anna Karenina by Lev Nikolayevich Tolstoy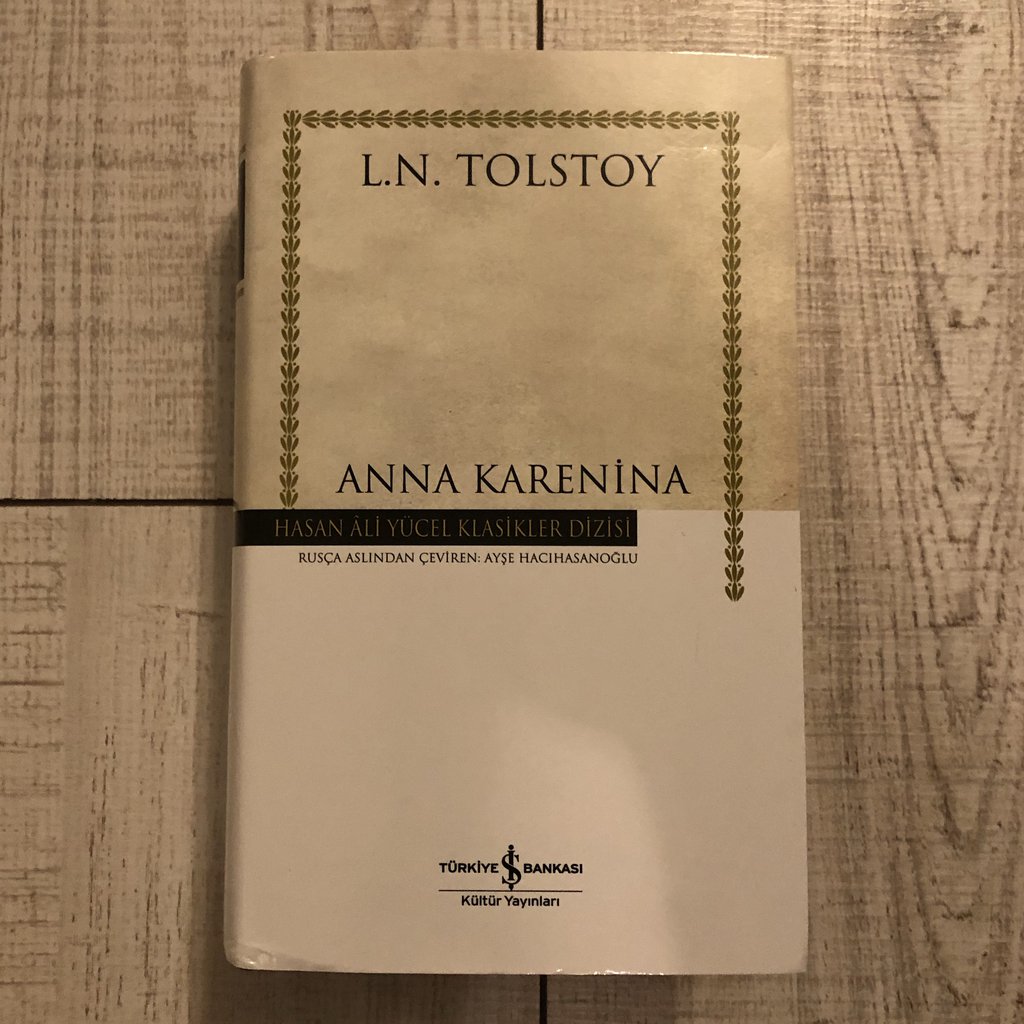 During the last thirty years of his life, Lev Nikolayevich Tolstoy (1828-1910) devoted himself to theoretical studies on man, family, religion, state, society, freedom, submission, rebellion, ethics, art, and aesthetics. In the novels and stories, he wrote during this period, he dealt with the problems of humanity, which he had been thinking about for years, with a literary fiction. He was also profoundly influenced by peasant anarchism. As a result, he developed a type of anarchism that comprises moral values of Christianity and liberty of anarchism that allows humanity to act and think freely.
The great author of War and Peace, Resurrection, and the Kreutzer Sonata, conveyed social events and the individual's feelings with his extraordinary ability to describe them. In one of his most famous works,Tolstoy dealt with the topics of marriage, love, and death with a profound power of observation and handled it with his magnificent literary genius. Many writers and critics consider Anna Karenina the greatest novel of all time. Tolstoy's Anna Karenina has been adapted to the cinema many times.